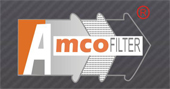 Online filter

Portable Oil Cleaning System
Very compact and portable, our low-flow filtration systems are designed to remove particulate contamination and/or free water from a wide variety of hydraulic and lube oils in small reservoirs.
Description
Our Portable Oil Purification System is a compact, portable filter system designed for use at the site of contaminated oil. It is easily wheeled to the sump or reservoir by one person. The system s completely self-contained and requires only electricity for operation. Note that the unit incorporates a reliable gear pump with an integral pump pressure relief valve to prevent system over-pressure. A selection of high performance filter cartridges is offered for use with the system. Cartridge changes can be made in only a few minutes.
Applications
"AMCO FILTER" Portable Oil Purification System can be used with injection molding machines, mobile hydraulic equipment, small transformers, circuit breakers and various other types of equipment. Applications are as follows:
New Oil – Even new drums of oil are sometimes contaminated with dirt and water. The Portable Oil Purification System can remove this contaminant as it pumps the oil out of the drum.

Machine Oil Reservoirs – Good preventative maintenance practices include the routine filtering of used oil. This recycling procedure also extends the useful life of the oil.

Spilled and Leaked Oil – The Portable Oil Purification System can recover and recycle contaminated oil which would normally be discarded.
Types of Oil include the following:
Hydraulic Oil
Lube Oil
Insulating Oil
Cutting Oil
Circuit Breaker Oil
Quench Oil
Turbine Oil

DUPLX FILTRATION SYSTEM
We bring to you Duplex Filter available in an array of sizes and dimensions. Used for multiple industrial applications, this Duplex Filter is meticulously fabricated with high emphasis on quality to make them free from all drawbacks. The Duplex Filter is good for repeated use and can be availed by our clients at leading market rates. The Duplex filter consist of two filters connected in parallel through a changeover device which consists of two balls housed in one housing, for operation with a single handle. We are authorized duplex strainers manufacturer and duplex basket strainers manufacturer.
Inlet and the Outlet at the same level and in opposite direction. Therefore the filter as such can be installed in existing pipeline.
Side bodies (filter housings) are flange mounted with our unique Double Ball Changeover Device and can be made to any size to increase Filtration Area and Debris Collection Volume.
Leak proof design with Bubble Tight Sealing as in the case of Ball valves.
Attributes :
High Pressure Filter
Filter Elements for lub oil, control oil and centrifuge
Filter Elements for lub oil, control oil and centrifuge
Range : 1 micron to 149 micron
Media : Paper Wire mesh, Micro glass
Pressure upto 400 ban

Used In :

Industrial applications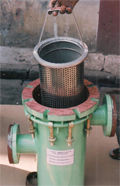 SIMPLEX FILTRATION SYSTEM
We offer a supreme range of Simplex Filter that is highly appreciated by clients worldwide. This Simplex Filter facilitates the filtering of various elements for lube oil, control oil and centrifuge. This optimum quality Simplex Filter is offered to our clients at leading market prices. Simplex filters are suitable for use with fluids of all types, thanks to their technically mature design. They have cleanable metal filter elements that combine easy handling and cleaning with high durability and a long service life.
Salient Features :
High Pressure Filter
Filter Elements for lub oil, control oil and centrifuge
Range : 1 micron to 149 micron
Media : Paper Wire mesh, Micro glass
Media : Paper Wire mesh, Micro glass
Pressure upto 400 ban
Eqult. to Mahle/Pall/Hydac also provided
Applications :
Cement Industry
Sugar Industry
Power Industry
Automobile Industry